Blue Bin for Recycling Waste
Collections
This bin is emptied every four weeks and should be placed on the kerbside with handles pointing outwards and the lid down for 7.00am.
Yes Please to: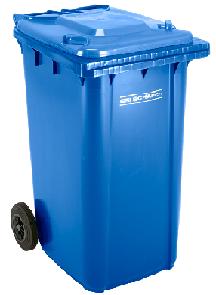 Plastic bottles, pots, tubs and trays (rinsed)

Drinks bottles
Plastic milk bottles
Shampoo bottles
Yoghurt pots
Ice cream tubs
Food trays
Plastic lids
Margarine tubs

Food and drinks cartons (rinsed)
Food and drinks cans (rinsed)

Drinks cans
Food tins
Empty aerosols
Clean aluminium foil such as pie cases
Metal lids
No Thanks to:
Plastic bags, film and coated wrappings or cellophane (includes Christmas paper), foil bags/crisp packets - these can go in your green bin. (Some large supermarkets now have collection points for various types of soft plastics).
Items with food residue.
Polystyrene.
Glass bottles and jars - these should be taken to a community recycling point
Small electrical items should be taken to Forthbank Recycling Centre or a charity shop that will accept these items
Batteries should be taken to Forthbank or a shop that has a battery collection point
Clean clothing should be taken to a community recycling point or charity shop
If your bin contains the wrong materials or is presented with the lid up, we will place a tag on your bin and not empty it until you have rectified the issue. Please refer to our missed bin page.
Maximise Your Space
Please check to make sure that only material that can be recycled is put in your blue bin
Please wash and squash all bottles
Buy concentrated products in smaller bottles but read the instructions carefully to make sure you use the product properly
Reuse plastic tubs for pack lunches, home freezing and general home storage
Look for products that can be refilled or returned
Related Publications & Documents
External Links
For Further Information Contact
Waste Services
Kilncraigs, Greenside Street, Alloa, FK10 1EB
Tel: 01259 450000
Email: customerservice@clacks.gov.uk