Blue Bin for Recycling Waste
Collections
This bin is emptied every two weeks and should be placed on the kerbside with handles pointing outwards and the lid down for 7.00am.
Yes Please to: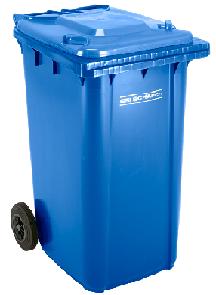 Cardboard

cereal boxes
cardboard packaging
brown corrugated cardboard
cardboard boxes
toilet roll tubes

Aluminium foil including food trays
Cans and tins
Plastic bottles, pots, tubs and trays
Food and drinks cardboard cartons

eg soup, milk, juice etc.

Empty aerosols
Paper

envelopes (including window envelopes)
magazines
newspapers
office paper
yellow pages
brochures
catalogues
leaflets
No Thanks to:
Plastic bags, wrappings or cellophane - these can go in your green bin
Glass bottles and jars - these should be taken to a community recycling point
Small electrical items should be taken to Forthbank Recycling Centre or a charity shop that will accept these items
Batteries should be taken to Forthbank or a shop that has a battery collection point
Clean cothing should be taken to a community recycling point or charity shop
If your bin contains the wrong materials or is presented with the lid up, we will place a tag on your bin and not empty it until you have rectified the issue.
From 1st October 2021 where bins are tagged on a first occasion we will return to empty them within 5 working days, provided the reason for the tagging has been resolved.
If a bin is tagged on any subsequent occasion we will not return to empty it until the next scheduled collection day.
Maximise Your Space
Please check to make sure that only material that can be recycled is put in your blue bin
Please wash and squash all bottles
Flat pack all boxes
Bulk buy where appropriate on longer life items eg a larger box of cereal will produce less packaging than the equal volume spread over smaller boxes. It should be cheaper too!
Buy concentrated products in smaller bottles but read the instructions carefully to make sure you use the product properly
Reuse plastic tubs for pack lunches, home freezing and general home storage
Look for products that can be refilled or returned
Stop unwanted mail by using the advice on the Recycling for Scotland web site
Related Pages
For Further Information Contact
Waste Services
Kilncraigs, Greenside Street, Alloa, FK10 1EB
Tel: 01259 450000
Email: customerservice@clacks.gov.uk