Delph Pond Forum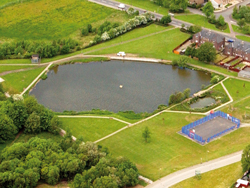 The Delph Pond Forum is made up of various partners, including:
Police Scotland
Land Services
Tullibody, Cambus & Glenochil Community Council
Local residents groups
Heritage group
Youth services
The Pond
The Delph Pond is located on open space between Delph Wynd, Alloa Road and Delph Road in Tullibody. It is an area of natural beauty and is listed as one of 8,146 locations within the British Isles as a "Breathing Place which will inspire and motivate you to create and care for nature-friendly green spaces where you live."
Features of the area include
Local pond with adjacent wildlife habitat
Children's park
Multi-use games area
Youth shelter and seating area
Picnic area
The pond is surrounded on three sides by residential housing. On the west side, it is bordered by a substantial woodland area, which is used for education purposes, nature walks and various events.
The area has seen an increase in people visiting and using the facilities, particularly the picnic area.
Upgrade of pathways
Pathways were upgraded with money secured through forum funding bids and can now accommodate pushchairs and motorised wheelchairs. A local wheelchair-user group called "Walking on Wheels" regularly use the space. Local runners use the improved pathways for training purposes.
Further upgrading was carried out in 2015, with a pathway being created through the Delph Wood area, opening up the woodland to allow access to all levels of mobility. It will also act as an outdoor classroom in which to further enhance school children's learning experience.
Wildlife
The local swan population has increased over recent years thanks to our resident pair. Frogs have been spotted following the successful transfer of spawn from another pond and a heron also visits the pond.
Interpretation Panel
To give locals and visitors some information on the Delph pond area, two interpretation panels have been designed and installed. One highlights the flora and woodland species within the Delph Wood, whilst the second panel gives information on the history of the area and the wildlife in and around the pond.
Events
Events regularly take place at the pond are usually themed around environmental, biodiversity and fun activities:
Pond and woodland clean-ups
Bird & bat box building
Ladybird hunts
School projects
Face painting
Fun days
Wild flower planting
Pond dipping & much more
Events are organised in conjunction with local groups, such as the History group, Tullibody Healthy Living Initiative, Forth valley Environmental links, Army cadets, Ranger service, Community & Estate Wardens and Tullibody, Cambus & Glenochil Community Council.
Comments
If you have any comments about the pond, or the forum or are interested in becoming involved please contact us using the details below.
Related Pages
For Further Information Contact
Housing
Kilncraigs, Greenside Street, Alloa, FK10 1EB
Tel: 01259 450000
Email: housing@clacks.gov.uk