I can see for miles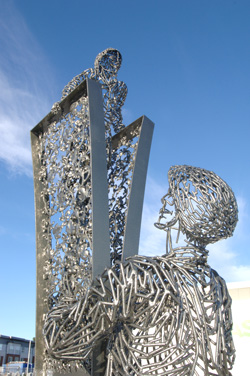 Andy Scott's third sculpture for Clackmannanshire Council, which emulates Alloa's regeneration, was installed on Station Square prior to the Stirling-Alloa-Kincardine railway opening in May 2008.
The sculpture features two figures - an adult wearing a flat cap and a youngster, and creates a focal point at the end of the boulevard.
The figures symbolise the working past of the town, through the adult figure, and the potential future for the town and area, personified by the child. The child in essence rises from the industrial past and looks towards the town.
Andy often incorporates local input in his creations and on this project there were design contributions from St Mungo's and St Serf's Primary Schools, as well as Bowmar Community House. A group from the Community House visited Andy's workshop in Glasgow last year, where they got to see him in action.
A tremendous amount of support was also given by Alloa Rotary Club.
Previous public art works for Clackmannanshire Council
Andy Scott's previous works can be viewed on our pages below.
For Further Information Contact
Strategy & Customer Services
Kilncraigs, Greenside Street, Alloa, FK10 1EB
Tel: 01259 450000
Email: customerservice@clacks.gov.uk