The Sentinels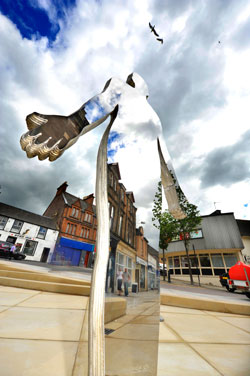 Rob Mullholland was chosen to design this major piece of public art as part of the Imagine Alloa project, now situated at the top of Alloa High Street.
With the re-generation of Alloa Town centre Rob wanted to create a focal point with the Sentinel figures.
The sculptures are made from marine grade polished stainless steel which has a highly mirrored surface.
Each figure standing at over 2.7 meters and nearly a ton in weight creates its own shape and form.
The polished mirrored profiles constantly alter in appearance as the light and weather changes throughout the day.
The mirrored surfaces are slightly distorted, this was intentional as Rob wanted to create a more interesting reflection and to invite the viewer to look into this altered image of their surroundings in a new way.
They are interactive and allow the public to create their own interpretation and meaning.
In essence the figures stand passively absorbing and reflecting the people and day to day life of the town, capturing and momentarily recording the constant flow of daily life.
The sculptures celebrate modernity change and growth of the town.
Installation took place in May 2010.
Experience
The Aberfoyle-based contemporary artist and designer is a graduate of Edinburgh College of Art.
Rob has worked on projects across Scotland including Glasgow, St Andrews and more locally at the Local Lomond and Trossachs National Park. His work at the Loch Ard Sculpture Trail was launched in 2008, where a series of eight sculptures represented the links in the natural food chain of the forest. The project was commissioned by Forestry Commission Scotland and has proved hugely popular with visitors to the National Park.
Website
For more information about the artist, you can visit Rob Mulholland's website.
For Further Information Contact
Strategy & Customer Services, Communications & Marketing
Kilncraigs, Greenside Street, Alloa, FK10 1EB
Tel: 01259 450000
Email: clacksweb@clacks.gov.uk