'This Journey's End' by Andy Scott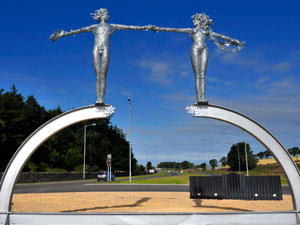 This sculpture by Andy Scott was installed on Marywood roundabout, on the outskirts of Clackmannan in August 2009, and gives drivers a fantastic welcome as they enter the county.
The brief was for an artwork which marked the entrance into Clackmannanshire as seen from the new bridge connection and should somehow celebrate that new crossing.

About a dozen initial design drawings were done by Andy and what you see on the roundabout is the result of that process.

The two figures stand atop two halves of a steel arc which are intended to look as though they are connecting. The figures reach out and make the connection and each holds a symbolic element.
The male figure holds a crown, which is a feature from Clackmannanshire's heraldic coat of arms. The female holds a draped circle of 23 stars, which represent the flag of the European Union, the suggestion being that Clackmannanshire is welcoming Europe and visitors from the east via the new bridge.
The composition creates an archway which frames the road beyond the roundabout leading into the county.

There are recurring elements found in previous commissions. Both figures have foliage as hands and hair, which is a reference to the natural environment, as seen at Muirside and Collylands sculptures.
The sculpture is also of course galvanized steel, and is fabricated in a steel mosaic technique, so it has a similar appearance to the others, but has its own identity as a gateway marker into the area.

Andy said "In keeping with most of my works, there is an immediacy of recognition in the artwork - the public can see what it's meant to be straight away. Whether they 'get' my intended symbolism or not is part of the art - it's great if they do, but I also hope that they invent their own mythology and there is a sense of engagement and curiosity".

The sculpture took around 9 months and was fabricated at Andy Scott's studio in Glasgow. It stands just over 6 metres tall and weighs nearly a tonne and a half.
Other Public Art Works by Andy Scott in Clackmannanshire
Related Pages
External Links
For Further Information Contact
Strategy & Customer Services
Kilncraigs, Greenside Street, Alloa, FK10 1EB
Tel: 01259 450000
Email: customerservice@clacks.gov.uk