'Lifeline' by Andy Scott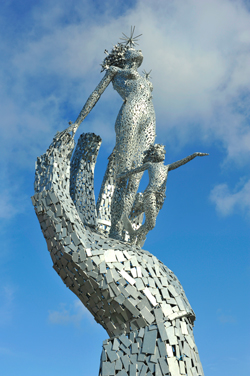 'Lifeline' by Andy Scott
This sculpture was conceived as a tribute to the role of the emergency services and armed forces in society. However, rather than develop a traditional figurative sculpture, Andy Scott once again imbued this artwork with a number of elements and symbols, and referenced figurative influences.

The hand is derived from the gauntlets which appear on the heraldic coat of arms for Clackmannanshire. It is sculpted in a semi-abstract and deliberately angular style, symbolising the uniforms and machinery associated with the military and emergency services, and is lifting the figures in a benevolent gesture of support.

These figures revisit the traditional mother and child motif often found in figurative sculpture. The mother reaches upwards in gesture while holding to the massive hand for support, and the child reaches outwards fearlessly yet holds on to the mother. Is the child offering help or asking for help?

The figures are festooned with stars, symbolising the celestial references of most religions, without implicitly adhering to any particular religion.
Closer inspection reveals the child figure has winged feet, a reference to the classical figure of Hermes and his role as the protector of travellers, appropriate for a sculpture at a busy junction.

This sculpture also incorporates the work of renowned Scottish poet Jim Carruth. His short poem 'Lifeline' is a series of phrases which have been laser-cut from steel and welded to the sculpture, and lend the artwork an additional layer of interpretation.

The sculpture took almost a year to create in Andy's Glasgow workshop.
'Lifeline' is situated at Shillinghill roundabout in Alloa and was installed in May 2011.
Other Public Art Works by Andy Scott in Clackmannanshire
Related Pages
For Further Information Contact
Strategy & Customer Services, Communications & Marketing
Kilncraigs, Greenside Street, Alloa, FK10 1EB
Tel: 01259 450000
Email: clacksweb@clacks.gov.uk