'Pontils' by Michael Visocchi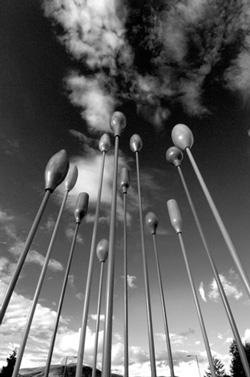 The Dumyat South roundabout on the outskirts of Tullibody features a work by highly rated young sculptor Michael Visocchi, which was installed in May 2007.
The shapes of the sculpture refer to glass blowing and the manufacture of bottles for brewing and distilling. Alloa has been home to a glass works for over 200 years and the existing OI factory is the oldest glassworks in Europe still operating on its original site, while Alloa's glass cone is the only one left in Scotland.
The work is called 'Pontils' after the iron rods on which molten glass is handled when being shaped and worked.
Background
Michael is from Kirriemuir in Angus, trained at Glasgow School of Art and now works from a studio in Portobello. The youngest artist to be elected to the Royal Scottish Academy in Edinburgh, his work for Clackmannanshire Council is his first outdoor piece to be realised and a subtle reflection of the industrial heritage of the county.
Other Public Art Works in Clackmannanshire
For Further Information Contact
Strategy & Customer Services
Kilncraigs, Greenside Street, Alloa, FK10 1EB
Tel: 01259 450000
Email: customerservice@clacks.gov.uk