'River Spirit' by Andy Scott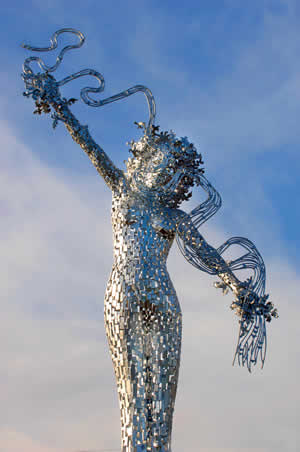 The first of international sculptor Andy Scott's public art works for Clackmannanshire on the Collylands Roundabout, between Sauchie & Alva, was installed in June 2007.
The sculpture named 'River Spirit' depicts a female figure growing out of a trunk base created using a mosaic of steel flat bar segments. Her foliage hands hold woven steel bars in the shape of the River Forth above her head.
While Andy's sculptures can be admired at dozens of sites, from Glasgow to Australia, the siting of three substantial pieces in close proximity is an unprecedented concentration of his work.
Since graduating from Glasgow School of Art in 1987 Andy has worked across a diverse range of artistic and creative projects. Public sculpture has been at the forefront of his activities, with dozens of commissions completed for a wide client base.
Andy is a figurative sculptor and works in steel and bronze. He combines traditional figurative symbolism and art forms with contemporary fabrication techniques to create iconic sculptures for the public realm.
His most well known pieces include the Clydesdale horse on the M8 at Easterhouse and the Thanksgiving Square Beacon in Belfast.
Other Public Art Works by Andy Scott in Clackmannanshire
Related Pages
For Further Information Contact
Strategy & Customer Services
Kilncraigs, Greenside Street, Alloa, FK10 1EB
Tel: 01259 450000
Email: customerservice@clacks.gov.uk