Kidzone out of school care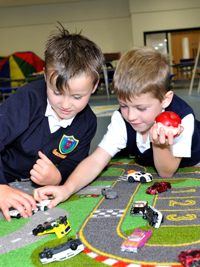 Kidzone is a fun and exciting facility for children aged 5-12 years.
We operate after school from 3-6pm during term time. During holiday periods we operate out of ABC Nursery from 8.30am-5.30pm.
Bases
School holiday care
We accommodate children from schools within Clackmannanshire and the Stirling area. During holiday periods we are based in ABC Nursery, Alloa.
During school holidays we offer full daycare 8.30am - 5.30pm. We are able to offer flexible options from half day sessions to full week care depending on availability. We have 16 places available during holiday periods.
Holiday period booking forms are available 4 weeks before each holiday block.
Fees
Term time
School holidays

Per day £34.40
Half day £17.20
10% discount applies if a subsequent sibling attends Kidzone.
An hourly retainer fee may be required to guarantee your place if not starting at the beginning of term.
More information
We promote a child centred ethos within Kidzone, where children have the opportunity to access a variety of play opportunities.
We offer a varied selection of activities to suit every child. We promote independence and choice, consulting with children to plan our sessions.
Some examples of workshops we offer include baking, woodwork, jewellery making, graffiti art, drama and dance, circus skills etc. We also often have themed weeks.
We also get out and about in our local area, parks, woodland, library etc and away days to the beach or activity parks.
View some of our photos in flickr.
Related Publications & Documents