Lord-Lieutenant of Clackmannanshire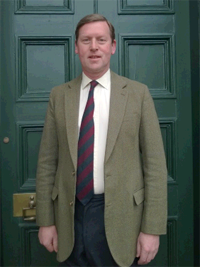 The Lt Col (Retd) Johnny Stewart LVO
The Lt Col (Retd) Johnny Stewart LVO was appointed Lord-Lieutenant for Clackmannanshire in 2014.
The Lord-Lieutenant acts as the King's representative in the County. The duties of a Lord-Lieutenant include presiding over Royal engagements, carrying out official duties on behalf of His Majesty The King, and encouraging voluntary work.
The Lord-Lieutenant is assisted by the Vice Lord-Lieutenant and by a number of Deputy Lieutenants:
Mr John Spruce - Vice Lord-Lieutenant
Mrs Margaret Paterson
Mr Neil McFarlane
Mrs Sheila Bulloch
Mr Tim Allan CBE
Mrs Anne Spruce BEM
Mr John MacPherson
Mr Craig Dunbar
Mr Stephen Roe
The Lord-Lieutenant's Golden Jubilee Trust
This Trust sponsors the Citizen of the Year award presented at the annual awards ceremony hosted by the Provost of Clackmannanshire.
Details of the Clackmannanshire's Award ceremony can be found on this website.
If you would like further information on the duties of Clackmannanshire's Lord-Lieutenant please contact:
Mr Craig Dunbar
Clerk to the Lieutenancy of Clackmannanshire
57 Broomridge Road
Stirling
FK7 0DT

Telephone 01786 813523 / Email: clackslieutenancy@btinternet.com
or contact:
Committee and Members' Services
Clackmannanshire Council
Kilncraigs
Alloa
FK10 1EB

Tel: 01259 450000
e: customerservice@clacks.gov.uk