Community Covenant
Working together with the military to support the armed forces community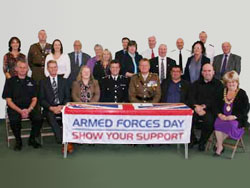 The aim is to encourage charities, local authorities, businesses, communities and individuals to work together with the military to offer support to service personnel and their families as well as reservists and veterans.
The aims of the covenant are to:
encourage local communities to support the armed forces community in their areas, and vice versa
promote understanding and awareness among the public of issues affecting the armed forces community
recognise and remember the sacrifices made by the armed forces community
encourage activities which help to integrate the armed forces community into local life.
The government has published a tri-service Armed Forces Covenant. The first of its kind, it sets the tone for government policy aimed at improving the support available for the armed forces community. Visit the Ministry of Defence website for more information about the covenant.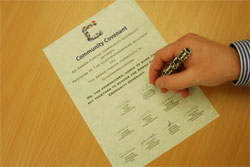 Clackmannanshire Council, along with our public and third sector partners signed the Armed Forces Community Covenant in September 2012
The Community Covenant Grant Scheme
The Community Covenant Grant Scheme is to help local projects that aim to strengthen the ties between members of the armed forces community and the wider community in which they live. It is a grant scheme from the Ministry of Defence (MOD) with funding of £30m over four years throughout Scotland. There is a community covenant for Clackmannanshire which involves the Clackmannanshire Alliance partner organisations.
Who can take part?
Local authorities
Health service providers
Businesses such as shops and restaurants
Charities and community groups
Individual members of the public
Advice and Support for the Armed Forces
We have put together a portal page which provides advice and support information for service personnel and their families as well as reservists and veterans
Related Pages