Clackmannanshire Tower Trail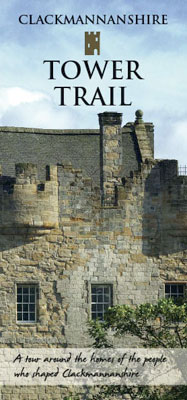 The Tower Trail is Clackmannanshire's latest major tourist attraction and will take you on a tour around the homes of the people who shaped Clackmannanshire.
It takes in four medieval towers and a manor house in the county:-
History
The tall tower houses (dating from the late 14th and 15th centuries) were built by aristocrats who needed to be near the royal court in Stirling, partly for defence, (although by then Scotland was actually quite peaceful), but mainly as a way of showing off the status, wealth and style of their owners.
The towers were at the centre of a complex of buildings, which often included a large hall, where the lord could entertain, as well as extra accommodation for his extended household.
Each has its own fascinating story - some have been attacked, most have played host to royalty, one was later at the centre of an amazing formal landscape and another even witnessed the 'knighting' of the poet Robert Burns.
By the later 16th century, however, towers were going out of fashion. People started to build 'modern' houses, like Menstrie Castle and Old Sauchie House, instead. Yet centuries later, the old tower is often the only building which has survived.
These towers show the changing fashions in tower building and are a great survival of the heritage of medieval Clackmannanshire, built by the families - Erskine, Campbell, Bruce, Schaw and Alexander - who shaped the later industrial development of the county.
Opening Times
Alloa Tower:

6th - 30th April: Friday - Monday, 1.00 - 5.00 pm
3rd May - 31st August: Thursday - Monday, 1.00 - 5.00 pm
1st September - 31st October: Friday - Monday 1.00 - 5.00 pm

Castle Campbell:

Summer opening times: Daily 9.30 am - 5.30 pm
October: Daily 9.30 am - 4.30 pm
November to March: Saturday - Wednesday, 9.30 am - 4.30 pm

Closed Thursdays and Fridays

Clackmannan Tower:

At the moment the tower is only open to visits by special arrangement and for Doors Open Days in September.

Sauchie Tower:

At the moment the tower is only open for guided tours by special arrangement and for Doors Open Days in September.

Menstrie Castle:

Currently not open to the public
Information panels have been placed at all five sites and there is a Tower Trail booklet, so that all year round visitors can find out about these impressive buildings and what makes them special.
Accessibility
The nature of these buildings generally means that there is limited accessibility for people with mobility difficulties.
Related Publications & Documents
External Links