Menstrie Castle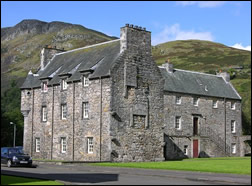 Menstrie Castle
Image courtesy of Undiscovered Scotland
Home to a branch of the Clan MacAlister who anglicised their name to Alexander. Sir William Alexander (born 1567) was to become 1st Earl of Stirling and chief founder of the colony of Nova Scotia in Canada.
Today, Menstrie Castle resembles a large manor house, and contains local housing and a commemoration room to the Baronets of Nova Scotia. The room is adorned with displays on the history of Nova Scotia, as well as painted armorials depicting the 109 Nova Scotian baronetcies created as a result. There are also portraits of James VI, Charles I and Sir William Alexander.
Clackmannanshire Tower Trail
The Tower Trail takes you on a tour of Clackmannanshire's four medieval towers and manor house. Information panels are available at all five sites and you can also download the information leaflet from the Tower Trail page.
Related Pages
External Links