Alloa Tower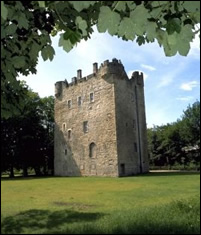 Alloa Tower
Clackmannanshire Tower Trail
The Tower Trail takes you on a tour of Clackmannanshire's four medieval towers and manor house. Information panels are available at all five sites and you can also download the information leaflet from the Tower Trail page.
Alloa Tower History
Dating from the 1300s, this fine medieval tower house is one of the largest, best designed and constructed of its type in Scotland. (Completed by 1497, with later alterations).
Of special interest are the original oak roof beams, medieval groin vaulting, a pit dungeon and the original internal well.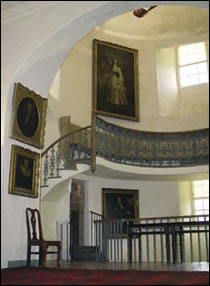 It was the home of the distinguished Erskine family, Earls of Mar, from the 15th century until c1800. By the late 17th century a mansion house and other buildings had been added. John, 6th Earl of Mar, made more changes, both modernising yet preserving the tower and mansion to complement an ambitious and extensive planned landscape around his home and stretching down to the River Forth. It was at this time the domed Italianate staircase leading to the Great Hall was added.
The mansion was destroyed by fire in 1800, but the solidly constructed tower survived. Alloa Tower Building Preservation Trust restored the tower carefully to its likely appearance in 1712, by which time many of the 6th Earl's improvements had been completed.
The interior is splendid and there is a fine collection of Erskine family portraits and memorabilia on display. A DVD presentation on the ground floor tells the story of the tower and its restoration.
The tower was opened to visitors in 1997.
Family History
The Erskines were custodians of the young Mary, Queen of Scots; the 1st Earl was Regent of Scotland; and the 6th Earl was involved in the 1715 Jacobite Uprising.
The Erskine family of Alloa Tower were, as Earls of Mar, guardians of the Stuart heirs in the 16th century; the present Earl of Mar and Kellie is still hereditary keeper of Stirling Castle.
The fascinating story of the family and the Tower is illustrated by a superb collection of portraits loaned by the present Earl, including paintings by David Allan, Raeburn and Kneller.
Further Information
For further information, you can contact the National Trust for Scotland.
Related Pages
External Links