Council Pool Bikes
The pool bikes have now been serviced and are available again for use. They are all bookable to registered users via Resource Bookings.
The bikes are currently being stored in the former reception at Kilncraigs. Locks, helmets etc are available from the Smart Travel Team within Roads and Transportation. These arrangements are temporary until the pool bikes are allocated a new home as part of the office centralisation.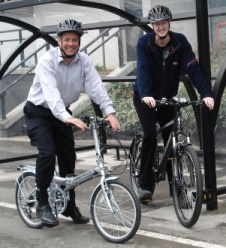 In order to reduce the environmental impact of undertaking the Council's day-to-day activities and to offer staff an alternative and healthier mode of transport when travelling on Council business, a fleet of bikes are available.
The pool contains 11 bikes, including a folding bike for use on public transport and for transporting by car to distant locations.
The bikes are currently available at
Each bike is equipped with a range of accessories including helmets and panniers.
Any office/base who think they have staff interested in using a pool bike on a fairly regular basis should contact us using the details below to see if a bike could be provided on a permanent basis.
Join the Scheme
The scheme is open to all Council staff. Please contact us using the details below. You can also view or download Pool Bike Scheme information and forms from this page.
Please note that staff will be asked to undertake a short practical competency assessment.
When to use the Pool Bikes
The pool bikes have been introduced to provide staff with an alternative mode of transport for travelling on Council business.
A common sense approach by staff on when and where to use them is expected. In general the bikes are suitable for short journeys of around 1 to 3 miles or about 20 minutes. If you are likely to be travelling more than 5 miles then another mode such as the bus or car may be more appropriate.
A folding bike is available for transporting by car or for use on public transport should you require a bike at your destination.
The above guidelines do not necessarily preclude the use of the bike for longer journeys where the bike would be the best mode of transport, ie for site inspections along a route or for multiple site visits.
In many instances the bike can be much quicker than driving, for example Alloa to Clackmannan or Cambus using the National Cycle Network is more direct and free from traffic and congestion.
Related Pages
Related Publications & Documents
For Further Information Contact
Travel Plan, Roads, Traffic & Transportation
Kilncraigs, Greenside Street, Alloa, FK10 1EB
Tel: 01259 450000
Email: Smarttravel@clacks.gov.uk