Cycling to School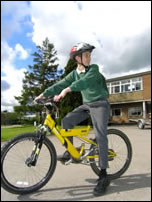 Improved paths and reduced speed limits on the residential streets around our schools now make the decision to cycle to school an easier one to make. Add to that the health benefits and the sheer fun involved and you can see why the number of parents and pupils cycling to school has increased.
To encourage more children to cycle to school we have now introduced Bikeability Training. This is a programme delivered by qualified volunteers and designed to give young people the road skills required to make independent bike journeys.
The training is split into three levels:
Level 1 is taught in a traffic free environment, like a playground, and teaches essential bike handling skills;
Level 2 is taught on-road and teaches children the skills necessary to be able to negotiate most on-road situations;
Level 3 is taught on road and teaches children how to journey plan, how to deal with complex road junctions and how to become an independent cyclist.
Interested in volunteering?
Training kids to cycle is fun and rewarding, knowing that you are passing on skills that will stay with them for the rest of their lives. By volunteering you will receive a training qualification to add to your CV and you'll gain new links to your school and local community.
For further information on Bikeability training and volunteering please refer to our Cycle Trainer Assistant page and/or contact our Active Schools Team at sportsdevelopment@clacks.gov.uk.
Cycle Smart - Cycle Safe
There are all sorts of dangers on the road – so make sure you're ready before you roll.
Use your head - Don't even think about getting on a bike unless you're wearing a helmet. If you are involved in an accident they provide vital protection for your head.
Bright ideas – It's amazing what a difference a fluorescent or a reflective strip can make. Check your front and back lights are working and that your back reflector is clean.
Stop – Before you start of on a journey, you must always check that your brakes are working properly.
Size wise – If your bike is to big or to small it can affect your balance. And if you are carrying anything, put it in a proper bike bag or pannier.
Road code – Before you cycle on a road, make sure you have done some cycle training. Once on the road, you must follow the Highway Code. That means stopping when traffic lights are red and allows allowing people to cross at zebra crossings.
Don't be daft – Don't mess about on roads or anywhere near cars – it's just not clever.
Hear, hear – Put a bell on your bike and let everyone know you are coming.
With thanks to the Department for Transport.
How should I wear my helmet so it protects my head properly?
The helmet should have a Safety Standard such as BS EN 1078 SNELL CERTIFIED.
It should not obstruct your ability to see clearly or cover your ears.
It must be a snug fit and should remain secure on your head.
It needs to be positioned squarely on the head, sitting just above the eyebrows and NOT tilted back or tipped forwards.
The straps should be securely fastened and not twisted, with only enough room for two fingers to be inserted between chin and strap.
External Links
For Further Information Contact
Roads, Traffic & Transportation
Kilncraigs, Greenside Street, Alloa, FK10 1EB
Tel: 01259 452369 / 450000 Fax: 01259 727451
Email: roads@clacks.gov.uk