Sunnyside Primary School
Sunnyside Primary opened in 1894 and until 1998 was housed in the original sandstone building. In August 1998 the school moved to the present new accommodation comprising classrooms, library, and games/assembly hall.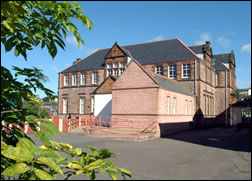 Sunnyside Nursery class, a 60/60 place nursery, is housed in the old building and provides a safe, stimulating and attractive learning environment for 3 and 4 year old children.
In April 2006, the refurbishment of the top floor of the old building created two new bright, attractive classrooms for P7s, a music/drama room, a large resource room, office space and a meeting room.
The school has excellent facilities and a hard-working staff.
Sunnyside Primary offers After School Clubs which support and extend pupils' learning and also offers many extra curricular opportunities to pupils in arts and sporting activities.
Out of School Care Kidzone@Sunnyside, opened in August 2006. This can provide 21 places for children whose parents require this service.
The school has an active Parent Council who work hard on behalf of the school.
We maintain good links with the community, including a close relationship with Ludgate House Senior Citizens.
Eco Committee
Sunnyside also has an active Eco Committee and have worked with the Council's energy officer on identifying where the school consumes the most electricity and gas.
School Aims
To create a welcoming, happy and caring learning environment where everyone in our school community is valued and actively encouraged to contribute to the life of the school.
To offer a curriculum which provides children with active, enjoyable and challenging learning experiences to enable them to become successful learners, confident individuals, effective contributors and responsible citizens.
To provide effective learning and teaching which meets children's needs, supports them to achieve their full potential and promotes lifelong learning.
To work in partnership with parents, outside agencies and the wider community to support children's learning and promote equality and fairness.
To promote active and healthy lifestyles.
Pupil Equity Fund Plan
You can view the up-to-date document via this link: Pupil Equity Fund Plan 2017-18.
Our Core Values
Respect for all, Achievement for all, Responsibility for all.
Enquiries
Mrs Helen Finch, Headteacher, welcomes enquiries from prospective parents. She is always pleased to arrange for visitors to be shown around the school and have opportunity to discuss the work of the school.
School Term dates