Lochies School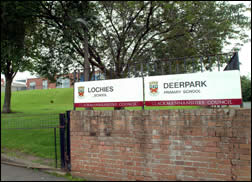 Lochies is a non-denominational school for pupils aged between 3- 12 who have severe and complex additional support needs.
There is a small Early Learning and Childcare provision which offers places only to children who have severe and complex physical additional support needs. We share the school campus with Deerpark Primary School.
Facilities
There are 6 classrooms in addition to a range of facilities including a sensory room, soft play, therapy room and general purpose room which is fitted with kitchen facilities for the children and staff to have sensory cookery sessions.
Lochies shares a large gym and dining hall with Deerpark Primary too. Outside the children have a play area which is secured by a perimeter fence and beyond this there is a large grassed area which has a small adventure playground, sandpit and football/basketball area.
Staff
We have a headteacher, class teachers, a support worker, a home school liaison officer, learning assistants and an administrator in the school to support our learners.
We work closely with our NHS partners, we have speech and language therapists, occupational therapist, physiotherapist and a school nurse all working part time in the school to support our children, staff, parents and carers.
Our Vision
We are a school community who are committed to the education and wellbeing of our children and their families. We are striving for excellence in all aspects of our school curriculum to ensure that we are meeting the needs of every child in our school. We are committed to working with our children, parents, staff and partners to ensure that our school offers engaging, motivating and inspiring learning experiences for all.
Our Curriculum
We design bespoke learning programmes to meet the individualised needs of our learners. We strive to ensure that our children are given learning opportunities which are stimulating, motivating and relevant. We encourage our children to have choice within their learning to ensure that their learning experiences are highly personalised.
School meals
All pupils are provided with a free school lunch. Special diets are also catered for.
Parental involvement
We have a Parent Council who meet regularly to support the work of our school.
We have regular events such as meet the teacher, summer fun day, assemblies, concerts and many more events which are well supported by our parents and carers.
School Term dates