Alloa South African Memorial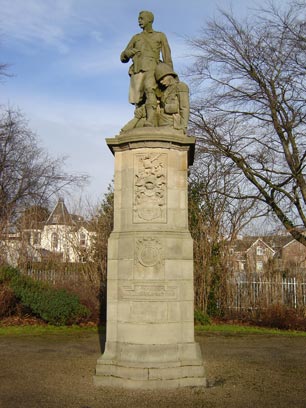 View location map
This site, which lies within the Alloa Glebe Conservation Area, is situated on the north side of the junction between Ludgate and Claremont and comprises a public open space with shrub margins, grassed areas and wide footpaths. The memorial, which is Category B listed, stands off centre towards the north of the site, centred on a circular hard standing with three radial footpaths extending out towards the north west, south and north east.
The memorial comprises an ashlar square stone pedestal with carved coat of arms and inscription on a convex south face. The remaining three upper pedestal faces have relief panels with moulded edges with the north facing panel containing a bronze plaque. There is a moulded pediment to the upper edge of the pedestal. The stone statue depicts a soldier of the Argyll & Southerland Highlanders standing protectively over a wounded comrade.
---
The Roll of Honour
"IN MEMORIAM SOUTH AFRICA 1899-1907"
Killed in action
Lieutenant Harold Percival Paton
Protectorate Regiment
Second Lieut Edward John Younger
16th Queens Hussars
Private Frank Lynn
2nd Dragoons
Private David McGregor
Highland Light Infantry
Trooper John W Hastings
Kimberly Light Horse
Died of wounds
Lance Corpl RH Alston Hunter
18th Hussars
Private Robert C Johnstone
Kings Own Scottish Borderers
Private John Wright
Royal Highlanders
Died of disease
Sergt Piper Robert Watt
Kings Own Scottish Borderers
Lance Corpl David M Stirling
Argyll and Sutherland Highlanders
Private William WWA Miller
Transvaal Constabulary
Related Pages