Reading Groups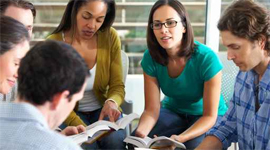 Stuck in a reading rut? Fed up of reading the same old authors? Like to try reading something different? If you answer yes then why not join our reading groups.
Reading groups are a great way to get to know new people and to read books you might not have found out about before.
Our reading groups are friendly and informal and we welcome all comers.
Interested in joining?
The group will meet monthly, either during the day or in the evening after work, depending on the demand. There's no financial outlay as the library service will provide the books, and the group will be overseen by a member of the libary staff. Please contact us on 01259 452262 for further information.
Current groups in Clackmannanshire
We currently have successful reading groups in Alloa and Tillicoultry, and we'd like to see other residents having the opportunity to join in the fun and lively discussion.
Alloa Reading Group
Venue: Speirs Centre
Day/Time: Thursdays 2.00 - 3.00 pm
This group is currently full, please contact 01259 452262 or get in touch via our email address below.
Tillicoultry Reading Group
Venue: Ben Cleuch Centre
Day/Time: Tuesdays and/or Thursdays 2.00 - 3.00 pm
If you are interested in joining this group, please call 01259 452262.
For Further Information Contact
Library Services
Speirs Centre, Primrose Place, Alloa, FK10 1AD
Tel: 01259 452262 Fax: 01259 723365
Email: libraries@clacks.gov.uk