Other options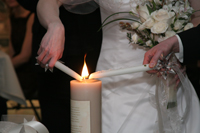 Would you like the Registrar to include a few words about how you met or special family members? The registrar will be happy to discuss this with you at your pre-ceremony meeting.
Do you want to include
All of our ceremonies offer a great degree of flexibility and we'll be happy to discuss your preferences with you in the weeks leading up to your big day.
For Further Information Contact
The Registrar
Speirs Centre, Primrose Place, Alloa, FK10 1AD
Tel: 01259 723850 / 450000 Fax: 01259 723365
Email: registration@clacks.gov.uk