Kilncraigs building, Greenside Street, Alloa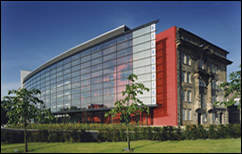 The Kilncraigs building (1904 - 2003) was designed by William Kerr (1866-1940) as the world headquarters of John Paton, Son & Co Ltd.
Kerr and his partner John Gray also designed the adjacent wareroom in 1936; these buildings are all that remain of the huge Kilncraigs wool-spinning mill, founded in 1814, which in its heyday employed thousands of people.
By 1900 the Paton family needed a new building which reflected the international prestige of their expanding company. They persuaded William Kerr to move to Alloa. He was interested in classical and Art & Crafts style architecture and the office block is in an elaborate Edwardian Baroque style, with finely detailed interiors which have survived largely intact.
After the rest of the mill was demolished, the building was restored and converted for Clackmannanshire Council by LDN architects. Its striking glass elevation and atrium act as a foil to the older architecture and has given the building a new lease of life.
Related Pages