Johnstone Mausoleum
(c1789), Old Kirkyard, Loan Side, Ochil Road, Alva
The Johnstone Mausoleum was designed by Robert and James Adam for John Johnstone (1734-1795). He bought the Alva estate from James Erskine, Lord Alva, in 1775 and the mausoleum was built c1789 for the remains of his wife Caroline (d.1778) and himself. Columns of the Greek Doric order flank the entrance, supporting a triangular pediment. It is one of only four Adam mausolea in Scotland. Several other members of the family are buried in the original mausoleum: an unroofed eastern extension was added in the 19th century to accommodate additional burials. The mausoleum is similar to the one which John Johnstone had erected around the same time in Dumfriesshire in memory of his father, Sir James Johnstone of Westerhall.
The mausoleum has now been restored: the structure has been pointed and strengthened; the pitched roof built in the late 19th century to protect the monuments in the extension was removed and replaced by a lower pitched glass roof, allowing the memorials in both parts of the building to be viewed properly for the first time in many years; damaged railings on the eastern approach to the mausoleum have also been replaced.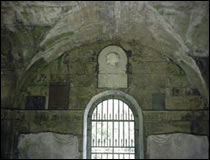 Generous financial support received from Historic Scotland, members of the Johnstone family, the Pilgrim Trust, the Esmee Fairbairn Foundation and Clackmannanshire Heritage Trust has made the restoration of this fine and dignified building possible.
The church of St Serf was rebuilt in 1632 but was abandoned in the 1980s when the congregation merged with that of the Eadie Church. It was demolished after a fire in 1985. Its 'footprint' and some inscribed stones from the church remain, along with some interesting early gravestones in the kirkyard. Since the demolition of St Serf's Church, the mausoleum is the only surviving building in the kirkyard.
Related Pages
For Further Information Contact
Library Services
Speirs Centre, Primrose Place, Alloa, FK10 1AD
Tel: 01259 452262/450000
Email: libraries@clacks.gov.uk