Heritage Centre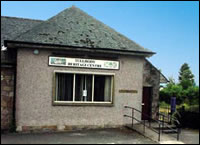 Abercromby Place, Tullibody
Tullibody is an ancient parish linked to Cambuskenneth Abbey. A church was founded there in 1149, and parts of the Old Kirk are probably of that date, though a date stone records its restoration in 1539.
In 1833 it became a chapel of ease, but it was abandoned as unsafe in 1904 and unroofed in 1916. Two phases of restoration work on the Old Kirk have now been completed with the financial support of Historic Scotland and Clackmannanshire Council. Further restoration is being planned.
Tullibody is said to have been the site of Kenneth mac Alpin's camp before his battle with the Picts near Cambuskenneth in 834. After his victory he returned and erected a stone memorial. The stone stood to the west of the modern village and survived until the early 19th century.
The village grew around the medieval church, but in c1800 the Abercromby family moved it. The core of the new village was around Main Street and the Tron Tree. 24 Main Street was the birthplace in 1811 of the botanist and geologist Robert Dick. In the 19th century a tannery was built and Tullibody began to grow.
It expanded again in the 1950s, when new housing was built for a large influx of miners from Lanarkshire, brought in to work in the ill-fated Glenochil Colliery. At about the same time most of the old village was demolished and rebuilt as part of the "improvements" typical of the time. Among the casualties were Robert Dick's house and the late Georgian villa Baingle Brae.
The Heritage Centre is run by Tullibody History Group and tells the story of the village and neighbouring Cambus. Displays look at their long history and include a model of Tullibody and the railway, an old schoolroom, as well as archives rarely seen before. There is something here to interest everyone of all ages.
Related Pages