Dollar Museum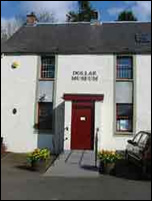 Dollar Museum
About the museum
Dollar Museum, opened in 1988, has become a storehouse of local treasures and a marvellous resource of information. Thanks to the Heritage Lottery Fund the museum has doubled in size and its facilities are much improved.
In the permanent displays you can learn about the history of Dollar, the Academy and the coming and going of the railway. Reference material is available in the light and airy reading room on the first floor, for family and local history research and for children doing school projects.
Three or more temporary exhibitions are mounted each year on specific subjects of local interest. Past exhibitions have included:
The Japanese Garden
Local Schools
Tools of the Trade
Victorian Costume
Local Churches
The Red Cross
Castle Campbell
Wild Flowers
Opening Times
Easter to Christmas, weekends only.
Saturdays, 11.00am to 1.00pm, 2.00pm to 4.30pm.
Sundays, 2.00pm to 4.30pm.
Admission Charges
Free.
For more information
Contact:
Dollar Museum
Castle Campbell Hall
1 High Street
Dollar, FK14 7AY
Tel: 01259 742895
Web: www.dollarmuseum.org.uk