Alva Glen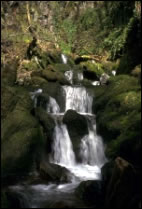 Alva Glen is situated above the village of Alva at the foot of the Ochil Hills. A car park gives access to the formal gardens. To the north of the gardens, the path runs into a more rugged area offering views down into a steep gorge, it then passes the remnants of an old dam that supplied the mills with water.
Sections of the path through the Glen are uneven, slippery, and unfenced with some steep drops. Please be careful, especially in wet weather, and wear suitable footwear. For their own safety, please take care of children and keep dogs under close control.
While walking in this area keep a look out for wildlife, a kestrel is often spotted in the upper part of the glen around the rocky cliffs. It feeds mainly on mice and voles. The long tailed grey wagtail can also be seen in the lower part of the glen all year round. The Glen is now fenced all round to keep sheep out which lets young trees grow again. With no sheep to eat them wild flowers can also flourish, meaning more food and shelter for insects.
By 1830, nine mills used the water from the Glen to drive their machines; and the formal gardens attracted people from all over central Scotland to dance to music in the illuminated glen in years gone by.
External Links
For Further Information Contact
Countryside Rangers
Kilncraigs, Greenside Street, Alloa, FK10 1EB
Tel: 01259 450000
Email: rangers@clacks.gov.uk