Venues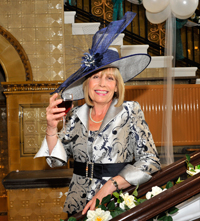 Your ceremony can take place almost anywhere in Clackmannanshire by agreement between you and the registrar, whether it is in your own home or garden, a hotel, country house or historic monument, or almost any other location.
If you plan to have your ceremony in any venue other than the Registration Office it is your responsibility to make your booking with the venue.
Civil ceremonies cannot take place in any location with a recent or continuing connection with any religion or religious practice.
The Registration Office at the Speirs Centre
The Speirs Ceremony Room can cater for ceremonies of up to a maximum of 40 people. A marble fireplace, tasteful decoration and freestanding flower arrangements complete the setting. Contact the Registrar to arrange a viewing.
Other Clackmannanshire Council venues
Other recent local marriage and civil partnership venues
Alloa Park
Alloa
Telephone: 0844 493 2129
email: information@nts.org.uk
Web: www.nts.org.uk/Property/Alloa-Tower/
Long Row
Menstrie
Telephone: 01259 763360
email: info@broomhallcastle.co.uk
Web: www.broomhallcastleweddings.com
At the Head of Dollar Glen
Telephone 'Historic Scotland' for bookings: 0131 668 8973
Web: www.historic-scotland.gov.uk
68 Moss Road
Tillicoultry
FK13 6NS
Tel: 0792 6807895
e: devonvalehall@gmail.com
Web: devonvalehall.btck.co.uk
Dunmar Drive, Alloa
Telephone: 01259 214339
Email: enquiries@dunmarhouse.co.uk
Web: www.dunmarhouse.co.uk
Tullibody Road, Alloa
Telephone: 01259 226400
Web: www.geanhouse.co.uk
Tullibody Road, Alloa
Tel: 07721 049551
Related Publications & Documents
For Further Information Contact
The Registrar
Speirs Centre, Primrose Place, Alloa, FK10 1AD
Tel: 01259 723850 / 450000 Fax: 01259 723365
Email: registration@clacks.gov.uk