Waste Services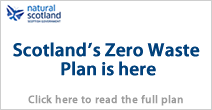 Waste Services manages the collection, recycling and disposal of waste.
Kerbside Collection for Householders
Household waste is collected weekly, rotating between a blue bin collection for recyclables and a green bin collection for non recyclables.
There are also weekly collections for specific materials that cannot be recycled through the blue bin. These are Food waste, textiles, glass, small electricals and batteries.
Garden Waste is collected seasonally using a brown bin.
A chargeable uplift service can be requested for larger items.
Services and Advice To Businesses
A commercial collection service is available to businesses throughout Clackmannanshire.
Forthbank Recycling and Disposal Centre
Situated in Alloa, this allows householders to dispose and recycle waste for free. A limited amount of commercial waste is also accepted but this is subject to disposal charges through a pre-paid voucher.
A number of community recycling points exist throughout the county to complement the household collection service.
Related Publications & Documents