Council calls for public inquiry
Published on:
20
February 2006
A public inquiry into the proposed Beauly to Denny power line has been called for by Clackmannanshire Council.
The move was discussed at Thursday's Council meeting when councillors expressed concern about the impact the overhead line will have on the character and appearance of the Ochils, which are the county's greatest visual and tourism asset.
The proposed new line runs close to the county's western boundary, and would obscure local views of the Wallace Monument.
Regulatory Committee Convener Councillor Eddie Carrick said: "The visual impact these pylons would have would be unacceptable. The option of putting them underground should be considered. I fear this line would have a serious impact on our burgeoning tourist industry.
"A public inquiry is the sensible way forward, especially when the government is currently reviewing its National Energy Policy. We are proud to be the first Council to demand a public inquiry and I would call on other affected Council areas to join us."
The motion received all party support.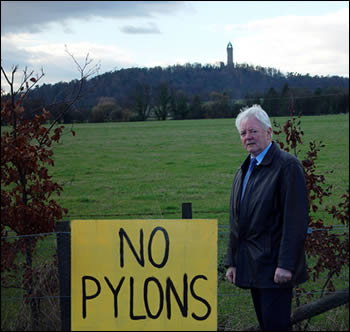 Related Pages