Redwell Primary School Travel Plan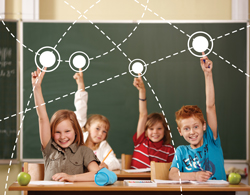 Travel to and from school is a key aspect of our new school life at Redwell Primary School. We would like you to consider your travel options as this provides opportunities to:
Support and promote health and well being by enabling children to be active
Encourage and develop children's awareness of road safety and responsibility
Improved paths and reduced speed limits on the residential streets around our school now make the decision to walk, cycle or scoot to school an easier one to make.
Bikeability training for pupils
To ensure that pupils have the skills they need to make safe cycle journeys we are committed to delivering Bikeability 1 & 2 training to all pupils in P5/6 who wish to take part and will be working towards the deliver of level 3 training in the coming years.
Bikeability is like the modern day cycling proficiency, with a few differences, and is designed to give children the skills and confidence they need to cycle safely on today's roads.
Level 1 is taught in a traffic free environment, like a playground, and teaches essential bike handling skills (P5/6);
Level 2 is taught on-road and teaches children the skills necessary to be able to negotiate most on-road situations (P5/6);
Level 3 is taught on road and teaches children how to journey plan, how to deal with complex road junctions and how to become an independent cyclist (P7/S1).
We're always looking for volunteers to help deliver training in school so if you enjoy cycling and want to pass on your skills please contact us. You can also refer to our Cycle Trainer Assistant page for more information.
Cycle parking facilities
We have secure cycle parking available for pupils and would love to see our shelters full. However, we still suggest that pupils bring a padlock of their own to use. The school cannot take responsibility for the loss or damage of any bike or scooter.
Further information on bike security can be found on our Bicycle Passport page.
Park & Stride
There are excellent walking routes available from Claremont, Grange Road and Smithfield Loan.
Why not leave your car at one of our suggested park and stride points detailed within our leaflet. Your child can then walk to school with you or their friends.
Parking
For those parents who take pupils to school by car, pupil drop off areas have been provided on Stirling Road (A907).
Parent drop off area to the west of the school vehicle access - parking limited to 10 minutes, return prohibited within 15 minutes between the hours of 8.30 am and 9.00 am, and 2.50 pm and 3.30 pm
Parent drop off area to the east of the school vehicle access - parking limited to 5 minutes, return prohibited within 15 minutes between the hours of 8.30 am and 9.00 am, and 2.50 pm and 3.30 pm
To ensure the safety of school and nursery pupils no parent parking will be allowed on site during school drop off and pick up times.
Transport Entitlement
The Education Service is responsible for determining Clackmannanshire Council's policy on the provision of home to school transport for mainstream pupils and pupils with additional support needs (ASN).
For primary pupils who are under 8 at the start of the school session, transport is provided if the distance from home to school is more than 1 mile by the shortest suitable walking route. For those 8 or over at the start of the school session, the distance is 2 miles.
School Crossing Patrols
School Crossing Patrols are a familiar everyday sight during school terms and have been for many years and our new school is served by 3 school specific patrols.
The patrols can be found on Grange Road, Claremont and Stirling Road and operate between 8.20-9.10am and 2.50-3.30pm.
Travel Plan
The Travel Plan has been developed over the last 2 years by a working group involving pupils, parents, school staff and Clackmannanshire Council.
Related Pages
Related Publications & Documents
For Further Information Contact
Roads, Traffic & Transportation
Kilncraigs, Greenside Street, Alloa, FK10 1EB
Tel: 01259 452369 / 450000 Fax: 01259 727451
Email: roads@clacks.gov.uk