Coach Education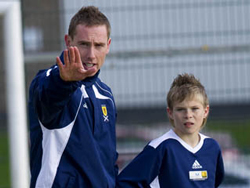 If you are interested in becoming a football coach, or are an existing coach wishing to further your coach education knowledge, there are courses available to you whether you work in the children's, youth or adult game.
Opportunities for coaches to gain new content and further knowledge are regularly provided across the Forth Valley area via courses and workshops.
Coach Education and in-services
For local courses and workshops within Clackmannanshire, Forth Valley and the Central Region please contact us using the details below.
For more information and to book a course, please refer to the coach and volunteer section of the Scottish FA website.
Scottish FA Developing Talent Programme
The Scottish FA offers a free resource for all football coaches to access practices and information for players of all ages and abilities. Please refer to the Scottish FA's Developing Talent web page.
Further Information
For more information on football opportunities within Clackmannanshire, please contact us using the details below.
For Further Information Contact
Sports Development
Kilncraigs, Greenside Street, Alloa, FK10 1EB
Tel: 01259 452350 / 450000
Email: sportsdevelopment@clacks.gov.uk