Dumyat Community Centre
Main Street East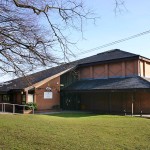 Menstrie
FK11 7BA

Tel: 01259 769439
Fax: 01259 762941
What facilities are available?
Main Hall
Suitable for:

All indoor sports (eg badminton, table tennis)
Parties
Exhibitions
Dinner Dances
Community Space
Suitable for:

Small meetings
Birthday parties
Exhibitions
Outdoor sports pitches
Suitable for:

Football matches
Outdoor training
Opening hours
Monday & Wednesday

9.00 am - 1.00 pm
5.00pm - 9.00 pm

Tuesday & Thursday
Friday
Saturday
Saturday afternoon and Sunday

Bookings by prior arrangement
Prices
For information about hire charges, see our Price List web page.
Making a booking
For details on how to book an area or activity at the Dumyat Centre, visit our Booking Information page.
For Further Information Contact
Customer Services
Kilncraigs, Greenside Street, Alloa, FK10 1EB
Tel: 01259 213131 / 450000
Email: leisurebookings@clacks.gov.uk