Dollar Civic Centre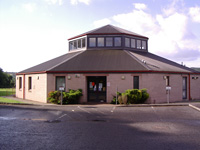 Park Crescent
Dollar
FK14 7AA

Tel: 01259 743253
Facilities for hire
There are three separate units/areas for hire. These areas are suitable for:
Community groups
Activity classes
Meetings
Note: Units can be booked together to provide a bigger facility.
Opening Times
Monday to Sunday by pre-booking only
*Please phone the Leisure Line on (01259) 213131 or e-mail leisurebookings@clacks.gov.uk to check availability.
Prices
For information about hire charges, see our Price List web page.
Making a booking
For booking details, visit our Booking Information page.
For Further Information Contact
Customer Services
Kilncraigs, Greenside Street, Alloa, FK10 1EB
Tel: 01259 213131 / 450000
Email: leisurebookings@clacks.gov.uk