Skip to navigation
Local Development Plan - Main Issues Report Stage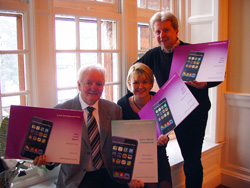 Clackmannanshire does not lie within a city region planning area so the current Structure and Local Plans will be replaced by one plan, the Local Development Plan (LDP) for the whole of the County.
The Planning etc. (Scotland) Act 2006 requires as the first stage in preparing a Local Development Plan that Clackmannanshire Council publish and fully consult on a Main Issues Report (MIR).
The MIR, Environmental Report, Monitoring Statement and other documents were open to public consultation between January and March 2011.
The Council also consulted on a suggested Open Space Framework at the same time as the MIR.
The responses to this consultation will inform the development of policies specifically relating to the natural environment, open space and leisure in the Local Development Plan. The MIR and Open Space Framework and their related documents can be viewed below:
Consultations database
These consultations were included in our Consultations Database:
Main Issues Report Representations
During the consultation period we received comments from 163 individuals or organisations, including the Scottish Government, National Bodies and Clackmannanshire residents.
The representations received during consultation on the MIR have been summarised and the document made available for download.
Where representations were in agreement with, or generally supportive of the MIR, these parts have not been summarised. We have tried only to summarise areas where representations were seeking changes or clarification of points within the MIR, prior to the preparation of the Proposed Plan.
Full copies of representations are available electronically on request to devplan@clacks.gov.uk
Page & Site Tools
Contact information
For further information about this page please contact:
Development Planning
Kilncraigs, Greenside Street, Alloa, FK10 1EB
Tel: 01259 450000 Fax: 01259 727453
Email: devplan@clacks.gov.uk
Or use the on-line contact form