Members' News
Clackmannanshire Sports Council now has a total of 47 members. Anyone wishing to join the Sports Council can do so by completing an affiliation form and returning it to the Sports Council Secretary at the address below with the appropriate fee.
You can use the links below for updates on some of our members' activities:
Golf
Muckhart Golf Club - ClubGolf Camp 2015
Another very successful junior ClubGolf camp was held this summer with children attending being complete beginners to regular golfers. 6 newcomers to the game have now joined the club.
World Campionships selection - April 2015
Duncan Scott has been selected for Team GB for the World Championships in Kazan in July 2015. He will be the youngest male swimmer in a squad of 30. He will join his Stirling University team mates Robbie Renwick and Ross Murdoch.
Earlier in the week the team for the inaugural European Games was announced. Duncan will travel to Baku and compete again for team GB.
Duncan has just returned from the British Championships in London. He raced in the 100 freestyle and broke his British record in the heats and again in the final. His other race was the 200 Freestyle. Again he broke his personal best.
You can also refer to Scottish Swimming's article.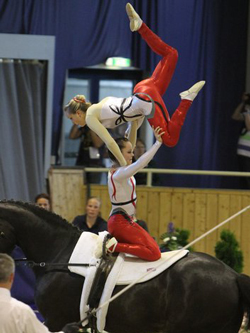 Equestrian Vaulting Spring competition - March 2016
The first equestrian vaulting competition of the season was held at the Scottish National Equestrian Centre, Ecclesmachan.
Wee County Vaulters participated in a variety of classes gaining many podium places.
In the Senior 3* class Hannah Young was placed first vaulting on W H Bentley lunged by John Eccles. Rebecca Norval took second place on Tylers Kernel lunged by Amanda McLachlan with Hannah Young taking 3rd place on KCM Cantaro lunged by Anne Young.
In the Junior 2* class Lisa Mercer placed first on W H Bentley with Mitra Pezeshki taking 4th place on Tylers Kernel. Bryony Rawding also vaulted on Tylers Kernel in the Junior 1* class finishing in first position.
In the child class, Kerri Brylka took 3rd place with Mhairi Hume 4th and Katie Henderson 5th all vaulting on Captain Jack lunged by John Eccles.
Kerri and Bryony then competed together in the Pas de deux competition taking first place on W H Bentley.
In the Pre Novice Individual class Ferne Smith was placed first and Sally Henderson 2nd vaulting on Tylers Kernel once again lunged by Amanda McLahlan. The girls also competed in the Walk Individual 9-12 years class with Sally taking 2nd place and Ferne 3rd.
In the over 12 class Joanne Messner was placed first with Michelle Messner 2nd. The girls also took part in the Walk pas de deux taking 5th place.
Finally in the squad walk class the Wee County Team of Joanne Mesner, Michelle Messner, Sally Henderson, Ferne Smith, Michaela Hogg, Rhona Swan and Eilidh Bennet were placed first in the restricted section with the Wee County Team of Lisa Mercer, Mitra Pezeshki, Bryony Rawding, Kerri Brylka, Mhairi Hume and Katie Henderson also taking first place in the open section.
Success at the British Vaulting Championships, held at Pencoed, Wales - October 2015
This year Wales played host to the British Equestrian Vaulting Championships which were attended by vaulters from Scotland, England, Ireland and Wales.
After 4 rounds of individual competition, Joanne Eccles was placed 1st in the senior advanced female class with Hannah Eccles 2nd and Hannah Young 3rd.
Joanne and Hannah vaulted on WH Bentley lunged by Rebecca Norval and Hannah Young vaulted on Glaxtown Billy lunged by Amanda McLachlan.
Also vaulting on Glaxtown Billy was Andrew McLachlan who won the senior advanced male individual class for the first time.
Joanne and Hannah retained the Pas de deux title for the 13th year in succession, vaulting on WH Bentley lunged by Hannah Young. Rebecca Norval and Andrew McLachlan vaulting on Glaxtown Billy, took 2nd place.
In the junior individual section, Harry Cox was placed 2nd in the male class with Rebecca Norval taking 3rd in the junior female class. Both vaulted on Tylers Kernel lunged by Joanne Eccles.
The child individual section was won by Kerri Brylka vaulting on WH Bentley lunged by Hannah Eccles. Kerri, along with Andrew, Hannah Young, Rebecca and Harry took part together with Lisa Mercer in the Scottish Equestrian Vaulting Team winning the senior advanced team class. The team vaulted on Tylers Kernel and was lunged by Joanne Eccles. The English Vaulting Squad finished in 2nd place.
Scottish Equestrian Vaulting Championships - September 2015
Several podium places were achieved at the Scottish Equestrian Vaulting Championships held at The Morris Equestrian Centre, Fenwick, last weekend.
The senior individual female title was won by Hannah Eccles vaulting on WH Bentley. 2nd place went to Joanne Eccles on Captain Jack with Hannah Young vaulting on WH Bentley in third place. Both horses were lunged by John Eccles.
The individual senior male title was won by Andrew McLachlan vaulting on Glaxtown Billy lunged by Amanda McLachlan.
In the junior section Rebecca Norval was placed first with Harry Cox taking 2nd in the male section. Both vaulted on Tylers Kernel.
In the child section Kerri Brylka took 1st place on Glaxtown Billy lunged by Hannah Eccles with Mhairi Hume 5th and Katie Henderson 6th.
The senior Pas de deux class was won by Joanne and Hannah with Andrew and Rebecca taking 2nd.
In the senior advanced team class the SEVT took first place vaulting on Tylers Kernel lunged by John Eccles. Team members were Hannah Young, Andrew McLachlan, Rebecca Norval, Harry Cox, Lisa Mercer and Kerri Brylka.
The Wee County Pre-novice Team of Mhairi Hume, Katie Henderson, Sally Henderson, Ferne Smith, Bryony Rawding and Lily Beth Bromley took 2nd place.
Sally Henderson was placed 5th in the pre-novice class with Ferne Smith taking 6th place in the Walk Individual class.
WH Bentley received the award for the best individual horse.
Wee County Vaulters' website
Photographs and scores can be seen via the Wee County Vaulters' website.
Training
The Wee County Harriers meet for training each Tuesday and Thursday at 6.30 pm in the car park behind the Spiers Centre, Alloa, and welcome new members at all times.
Our club is about participation and support - not just competition.
For Further Information Contact
Secretary, Clackmannanshire Sports Council
Kilncraigs, Greenside Street, Alloa, FK10 1EB
Tel: 01259 452334 / 450000
Email: sportsdevelopment@clacks.gov.uk