Fairtrade
Clackmannanshire is a Fairtrade Zone
Clackmannanshire Council supports Fairtrade, and is working with people and organisations in the community to raise awareness of trade justice and fairly traded products.
Clackmannanshire has been a Fairtrade Zone since 2012 - this means that the Fairtrade Foundation has recognised us as a "community that supports Fairtrade and deepens understanding of the benefits Fairtrade brings; takes action by choosing Fairtrade products whenever possible and encourages others to do likewise; and achieves and continues to take action on the five Fairtrade Town goals set by the Fairtrade Foundation."
We have an elected member and officer who take an active role in the Fairtrade steering group, helping to organise and publicise Fairtrade events. These have included an African cooking demonstration, an art competition, and a Fairtrade olive oil tasting.
More events are planned for the future, and will be publicised in the Council's events diary.
You can buy Fairtrade products in at least 17 shops in Clackmannanshire; and 11 cafes and restaurants serve Fairtrade tea and coffee.
What is Fairtrade?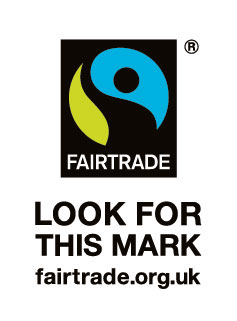 Fairtrade means better prices, decent working conditions, local sustainability, and fair terms of trade for farmers and workers in the developing world.
Fairtrade aims to enable the poorest farmers and workers to improve their position and have more control over their lives. The FAIRTRADE Mark on a product means that:
A guaranteed minimum price is paid to Fairtrade producers, covering their costs of production
The producers receive an additional Fairtrade premium, an extra amount of money to invest in their communities on economic, social or environmental projects
Workers on farms also get rights under Fairtrade like decent wages, and they are allowed to join unions
Producers in Fairtrade co-operatives always get a democratic say in decisions - women included
If you would like to learn more about Fairtrade, please contact John Lamond (or telephone 01259 729 611) to arrange for a member of the Fairtrade steering group to come and talk to your school or workplace.
You can find more information on the Fairtrade Foundation's website
What is happening in Clackmannanshire?
Clackmannanshire is already home to a Fairtrade school and Scotland's first Fairtrade college, and to a host of organisations and individuals working to promote and support fair trade.
The county's Fairtrade steering group was formed in May 2011, and is made up of volunteers from across Clackmannanshire, including its churches and businesses. On 26 January 2012, Clackmannanshire Council declared its support for fair trade, and for Clackmannanshire's bid to become a Fairtrade Zone, by passing a resolution and nominating an elected member to join the Fairtrade steering group.
What can I do?
Choose Fairtrade, and if you don't see it, ask for it.
Spread the word to your friends, neighbours and colleagues.
Look at the Fairtrade Foundation's website for ways to get your school, church, workplace or any other organisation involved
Join the Clackmannanshire Fairtrade steering group - for more information please contact John Lamond (or telephone 01259 729 611)
Contact information
Sustainability
Kilncraigs, Greenside Street, Alloa, FK10 1EB
Tel: 01259 450 000 Fax: 01259 727 453
Email: sustainability@clacks.gov.uk