Environmental Education
The Ranger Service is responsible for the management of the local Country Park and a number of other sites throughout the county. The Rangers organise activities and events within the area and work closely with schools and community groups.
Schools' Environmental Education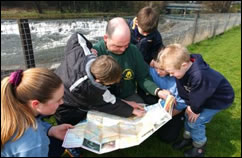 Although known as the 'wee county', the local area has an enviable range of habitats and interesting historical sites. Gartmorn Dam Country Park, the Ochil Hills Woodland Park and the Hillfoots Glens provide excellent environmental education opportunities for schools. There are also a number of useful habitats within and around the school grounds themselves, giving pupils and teachers alike the opportunity to enlist the expertise of a local Countryside Ranger to help bring their environmental projects alive.
Schools are also encouraged to visit countryside sites independently. Teachers can contact the Rangers beforehand to discuss safety, access and the suitability of the site. The Rangers will also advise on the natural history of the area.
The Ranger Service have worked with schools on a great variety of projects. Certain materials and equipment can be obtained from the Ranger Service on loan.
Countryside Ranger Talks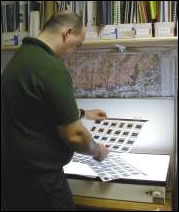 The Ranger Service is available for slide talks on countryside topics to clubs and groups between September and June evenings or weekdays. We have a collection of over 500 slides to choose from, so we can respond to most requests depending on your group's interest.
We have our own projectors and screens, however we do require a darkened room, especially if your group meets in the daytime. There is no cost to groups within the Clackmannanshire area.
Contact information
Countryside Rangers
Kilncraigs, Greenside Street, Alloa, FK10 1EB
Tel: 01259 450000
Email: rangers@clacks.gov.uk