The Clackmannanshire and Stirling Environment Trust
What is the Trust?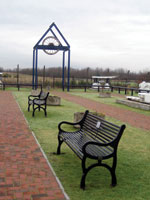 The Trust is an independent organisation managed by a board of Trustees. Representatives are currently drawn from Clackmannanshire and Stirling Councils as well as community representatives from both council areas.
What does the Trust do?
The Trust was set up to distribute funds raised under the Landfill Communities Fund.
Can the Trust help my organisation?
If your project fits into the general requirements outlined below and one or more of the following priorities, your group could be eligible for funding.
Generally all projects must
be for the benefit of the public;
be located within the Clackmannanshire and/or Stirling Council areas;
enhance sustainability;
be compliant with the landfill communities fund scheme.
Groups can apply at any time for a small grant of up to £2,500 to implement a project costing no more than £5,000, but if considering a larger project, please contact us using the details below.
How do I apply for funding?
All organisations must complete a standard application form. These can be obtained from the Trust's office detailed below.
Priorities
Community Projects
The project should provide, restore or improve community resources.
Land /Amenity Improvement
The project should restore and/or enhance the environment for the benefit of the public. This includes the built and/or the natural environment.
Biodiversity
The aim of the project should be to enhance or protect local biodiversity.
How much money could I get?
This will depend on the type of project your group intends to carry out, but generally your project could receive up to £4,000.
However the Trust will also consider larger project proposals. Please contact the Trust for further information.
How does the Communities Fund work?
The Landfill Communities Fund allows landfill operators to reclaim part of their landfill tax bill if the money is used to support projects approved under the scheme. This is where the Trust comes in, to administer and distribute funds raised through the disposal of municipal waste by Clackmannanshire and Stirling Councils.
Full details of the fund can be obtained from the Trust.
What is the Landfill Communities Fund?
The Fund is the successor of Landfill Tax, which was introduced in October 1996 and was Britain's first "green tax". Basically every time refuse is disposed of in a landfill site, the site operator must pay a tax contribution to H.M. Revenue and Customs. The aim of the tax is to take into account the environmental costs of landfill as a waste disposal method.
Further Information
If you want any further information, wish to discuss a possible project or require an application pack, please contact the Trust using the details below.
Support
The Trust is supported by credits reclaimed by Clackmannanshire and Stirling Councils.
Contact information
The Clackmannanshire and Stirling Environment Trust
c/o Bannockburn Local Office, 6 New Road, Bannockburn, Stirling, FK7 8LW
Tel: 01786 484611
Email: morrisona@stirling.gov.uk