Countryside Safety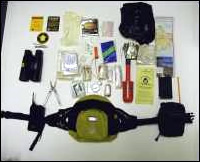 While on Patrol the countryside Rangers carry equipment to help visitors they may came across who are in need of assistance.
A first aid kit for treating cuts and bruises, protective gloves, face shield for resuscitation, throwing buoy for water rescue and communication equipment, are all carried.
The Ranger Service patrol the main sites on average once a week so it is important when visiting Clackmannanshire's countryside that you take responsibility for your own actions. The following advice may help.
Preparation
Plan your route.
Make sure it is within your group's capabilities, especially those of children.
Check the weather forecast.
On the day
Leave a note of where you are going and the time you expect to return.
Make sure you have the right equipment for what you intend to do, a walk in the hills for example will probably need rucksacks and spare clothing.
If you intend going off paths into more remote countryside it may be a good idea take a map and a compass and know how to use them.
Keep a close eye on young children, especially in the Glens or near water.
A small first aid kit can deal with minor cuts and bruises.
While mobile phones may be useful in an emergency they should never be relied upon, as signal strength in remote areas can be poor.
But most of all enjoy your day in Clackmannanshire's countryside.
Contact information
Countryside Rangers
Kilncraigs, Greenside Street, Alloa, FK10 1EB
Tel: 01259 450000
Email: rangers@clacks.gov.uk