Football Pitch Availability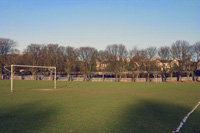 Pitch inspections are normally carried out on a weekly basis. Details of any cancellations will be made available by 1pm on Fridays, via:
recorded message on the Leisure Line, Tel: 01259 213131
online at this webpage
Pitch Status
This message was last updated on Wednesday 18th of April 2018.
All grass pitches are currently playable subject to the referees decision, with the exception of Coalsnaughton, Fishcross.
AGS pitches are bookable, subject to availability.
Can all service users please remove their rubbish from the area before leaving the venue.
Thank you.
For Further Information Contact
Customer Services
Kilncraigs, Greenside Street, Alloa, FK10 1EB
Tel: 01259 450000
Email: customerservice@clacks.gov.uk