Skip to navigation
Individual Meal Home Delivery Service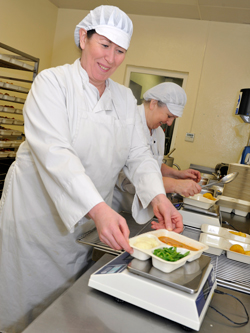 Class Cuisine offer a range of delicious individual frozen dinners delivered to your door.
This service is open to everyone and delivery is free to people living in Clackmannanshire.
Brochure and order form
You can view or download our Food With Thought Brochure which details meals available. Our order form is also available.
A variety of soups, main meals and desserts are on offer and the brochure contains photos of all the meal ranges: beef, chicken, pork, lamb, fish and vegetarian.
Over 70 dishes are available, each developed by the Council's catering staff and cooked at our Class Cuisine facility in Sauchie. They are then immediately frozen to preserve flavour and nutrients.
Placing an order
You can place an order
by phone, Tel: 01259 450000
with the driver
by post to Class Cuisine, 21 Main Street, Sauchie, FK10 3JR
by email using interactive order form available from this page

If using this facility, please ensure you have the cash or cheque (made payable to Clackmannanshire Council) ready for the driver when he delivers your meals. Alternatively, if you wish to pay in advance, please call 01259 450000
Orders must be placed by 5.00 pm on each Thursday for delivery the following week. Meals can be kept in the freezer and heated in the oven or microwaved when needed.
The minimum order is £20.
Payment
You can pay by cash or cheque on delivery, or if ordering by phone, you can use a credit or debit card.
Our drivers
Our delivery drivers have been fully checked by the Police and are cleared to work with vulnerable people.
Meals are delivered direct to the door, and if assistance is needed, we can help to place the meals into the freezer.
You may also be interested in...
Page & Site Tools