DIAGEO - Safety Advice for the Community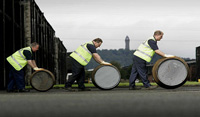 DIAGEO have published an information and safety advice leaflet for their sites in Clackmannanshire. These leaflets have been distributed to all their neighbours in Cambus, Blackgrange, Menstrie and Carsebridge.
As part of this initiative they have installed public warning sirens at each of the sites with instructions included in the safety advice leaflets on action to be taken when the sirens sound.
The published leaflets are attached below.
Related Publications & Documents